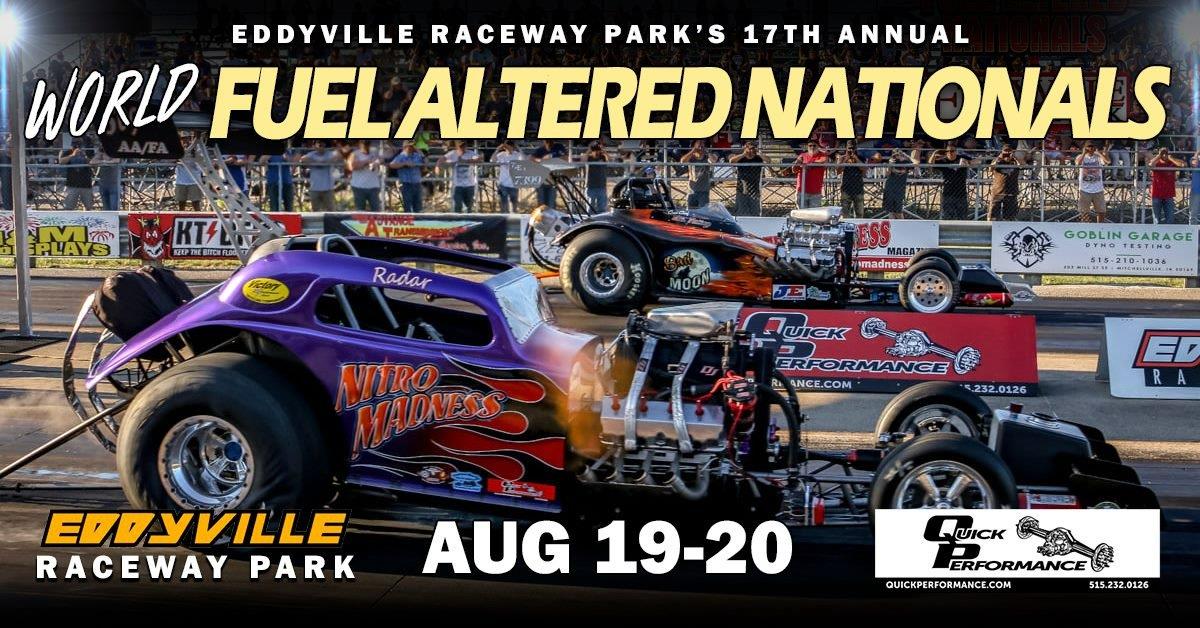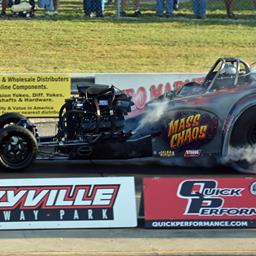 8/1/2022
Eddyville Raceway Park
---
Coming to Eddyville August 19 & 20 17th Annual World Fuel Altered Nationals!!
This is the biggest event for the wild and crazy Fuel Altereds in the Midwest!
Come see the wild fire-breathing, ground-shaking super-charged Nitro Fuel Altereds at Eddyville Raceway Park!!
The Quick Performance World Fuel Altered Nationals at Eddyville Raceway Park! Friday & Saturday Aug 19-20th!
· EVENT SCHEDULE ·
Thursday
Open at 12 noon for pro parking
Friday
Pit Gate Opens at 1 pm
Spectator Gate Opens at 3 pm
Test & Tune at 5 pm
Fuel Altered Qualifying at 7 + 9 pm
Saturday
Pit Gate Opens at 8 am
Spectator Gate Opens at 11 am
Sportsman Time Trials 10 am (2)
Eliminations Follow as Called To Lanes
Final Round Fuel Altered Qualifying at 2 pm
Fuel Altered Eliminations @ 5 - 7 - 9 pm
· EVENT PRICING ·
Spectator Friday $20
Spectator Saturday $30
EVERY TICKET IS A PIT PASS!
Kids 6-12 Friday $5 - Saturday $10 - Under 6 Free!
*Spectators coming in pit side Saturday after 11am will pay $5 per vehicle for parking on pit side. *Pit gate will be closed after 11 pm Friday, open at 8 am Saturday.
Campers: We will have special reserved camping spots available on spectator side. ($100 on line purchase) Non reserved camping on pit side $50 (1st come 1st served)
Sportsman Race Classes: (Saturday)
*Ozark Mountain Super Shifters
*Nostalgia Drag Car #1, 1980 & older door cars, front engine dragsters, altereds, & roadsters, 6.49 second & quicker dial ins, bracket race format, no delay boxes, transmission brakes allowed.
*Nostalgia Drag Car #2, same as #1 except for dial ins 6.50 sec. & slower.
Nostalgia Classes entry fee; $65 car/driver.
Nostalgia Classes payout: (With minimum of 12 cars in class) Winners $400, R.U.'s $200, Semis $100, ¼s $50 (1/4s paid only if over 16 entries in the class)
*Top, Modified, Sportsman, and Jr Dragster classes. (Non points with regular entry fees and payouts)
*Driskell Racing Engines Quick 16 (8 door cars, 8 dragsters)
Track Address: 3260 Merino Ave. Oskaloosa Ia 52577
Mailing Address: 2457 hwy 163 Pella, Ia. 50219
Track phone: 641-969-5596
Track Manager Phone (cell) 641-780-3534
Website: www.eddyvilleraceway.com
Be sure to set aside the third weekend in August so that you can be a part of the 2021 World Fuel Altered Nationals!!
Back to News